MASTER YOUR MESSAGE
Build Communication Skills, Win the Audience, Influence the Narrative.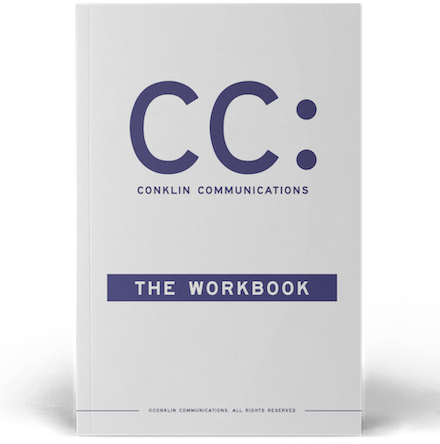 GET THE #1 MEDIA MESSAGING FORMULA
Laine Conklin has developed communication strategies for Fortune 100's. Download her FREE guide and learn how to craft your message and win your audience.
"One word - Transformational."
Marta Bulaich, Operating Partner, Crane Venture Partners
Corporate & Individual Training
What clients say
"Laine has the ability to quickly and easily assess business and communications needs of any executive and then quickly elevate his/her skills to communicate more effectively and powerfully. I've worked with Laine for more than eight years and she is one of the best communication professionals and partners in the industry."
Amanda Pires

VP Corporate Communications, PayPal
WORK WITH CONKLIN COMMUNICATIONS NOW
THE MOST ACCOMPLISHED AND SUCCESSFUL LEADERS ARE THE ONES WHO EMBRACE LEARNING FROM EVERYTHING.
Conklin Communications works with executives, managers and public figures to hone their leadership abilities and speaking skills in the public forum.
Are you getting the results you want?
Laine Conklin has delivered communications and media coaching for senior executives and spokespeople for the last 20 years. Her experience runs the gamut from start-up companies to Fortune 100's.
" Laine and I have worked together for more than 10 years both at LC and PYPL. She has proved invaluable as a coach and partner in communication for our executives and all who are public-facing. She's insightful about our business and the overall marketplace. She makes the process fun and engaging – so everyone loves working with her."
Anuj Nayar
VP Corporate Communications, Lending Club
" Last night was amazing. It was a milestone event for me personally and the reaction from audience made it more memorable. You were a great coach and if I look back at my last 10 days before we met to where I was last night, you made an impact. The learning from your coaching will always stay with me and I will be applying them going forward to get better and better. THANK YOU."
Sunitha Chinthalapudi
Head Of Commercial Lending, Technology, TD Bank